Bergenfield
Relocating to Bergenfield, New Jersey? If you plan on moving into Bergenfield, we can help. First begin by searching for homes in the
Bergenfield area
. Next make sure you
signup
for our FREE Portfolio Manager so you can keep track of your Bergenfield properties and also receive free email alerts on new listings matching your search criteria.
Preview some of the fine homes for sale in Bergenfield
Bergenfield is a beautiful borough locate within close proximity to New York City. The borough has approximately 26,500 residents. Bergenfield is a commuter's dream being that it is an easy drive to Manhattan. New Jersey Transit offers bus and train service Manhattan from neighboring River Edge.

Bergenfield is located to major highways including Route 4 and Route 17. Several large shopping malls and countless retail outlets are located nearby.

Bergenfield Public Schools serve approximately 3,900 students in seven schools. There are five elementary school and one High School. Students in kindergarten through twelfth grade are educated in Bergenfield Public Schools. Students in grades 6-8 attend the Roy W. Brown Middle School. High school students attend Bergenfield High School, which has approximately 1,150 students.


Bergenfield today is a diverse community comprised of peoples of all races, religions and creeds…a community of hard-working middle class people who are very interested and involved in their community. Residents can avail themselves of the many activities taking place in the community.
In the Fall, on a Saturday afternoon, residents can enjoy the High School Football Game, with the teams, cheerleaders, and fans proudly wearing the red and black school colors. And at half time, you can be treated to the performance of the award-winning Bergenfield Marching Band. It's truly a nice way to spend a sunny autumn day.
Our Memorial Day Parade is one of the best in the area and people come from near and far to enjoy it. There are floats, antique cars, the Sheriff's Department Mounted Division, Bagpipers, Bands, etc.
During the summer, the Recreation Department sponsors the Summer Concert Series including a Barbershop Chorus, pops orchestra, bluegrass and "a capella" music at our picturesque Cooper's Pond Park, a Fishing Contest for kids, tennis clinics, athletic clinics for students in basketball and weightlifting, softball and baseball leagues at designated parks and schools. Our council for the Arts sponsors art and
craft shows, dance, theatrical and musical presentations.
Bergenfield Schools Are Moving Up
School officials in Bergenfield, a working-class, largely immigrant community tucked among the wealthier boroughs of Bergen County, have been striving for years to improve academic performance at the high school. That hard work seems to be paying off.

Bergenfield High School was the fastest rising school in this year's New Jersey Monthly survey of the Top High Schools, jumping nearly 100 spots, from 234 to 136.

"We've been breaking our backs," says Bergenfield schools superintendent Michael Kuchar. "We've really revolutionized the place."

Originally settled by Swedish and Dutch immigrants, Bergenfield later attracted new arrivals from Italy and Ireland. Today, the town of 25,600 residents is mainly home to families with children who are on their way to being first-generation college students. The high school's population of 1,250 students is 30 percent Filipino, 30 percent Hispanic, and about 30 percent white, says Kuchar. "Their parents want the best for their children," he says. "They want them to have a part of the American dream."

Despite big cuts in state aid and an increase in enrollment, Bergenfield High School has managed to reduce class size, achieve better test scores, have fewer kids drop out, and send more students to four-year colleges since the last survey, published in 2008.

How did they do it?

Over the past few years, school officials have focused intensely on academic achievement, creating programs that increase the rigor of coursework. They set up after-school clubs for kids who struggled with homework. They started a ninth-grade academy that helps students with the transition from middle school to high school. They used mentors to start a program for incoming freshmen interested in engineering and math. They created partnerships with New Jersey colleges and universities that allow students to take courses for college credit. And they doubled the number of Advanced Placement classes.

Jim Fasano, principal of Bergenfield High, says the school has worked hard to get students interested in going to college, busing them to different universities for tours.

And they created an alternative high school within the school system, where students are placed if they are at risk of dropping out or have fallen behind. There, they receive individualized attention in a small-class setting. Students from nearby schools are also sent there to help offset the cost.

"We've had twelve students graduate from high school this year that were in line to drop out," says Kuchar. "That's a miracle."

Like many other towns in the state, Bergenfield had a tough year financially. The school district lost $1.6 million in state aid last year and another $2.88 million under the Christie budget for the new school year.

Despite that, Bergenfield has not had to lay off any teachers—in part because of a large number of retirements. According to Kuchar, there were seven teacher retirements at the high school, which he describes as "tremendous breakage."

However, he says the district was able to replace four of those teachers, and fifteen existing teachers will make up for some of the remaining gap by teaching additional periods under a "generous settlement" with the teachers' union. Further, the district has cut the number of administrators and consolidated some positions. For instance, in addition to being superintendent of schools, Kuchar will serve as director of guidance at the high school this year—at no extra salary. Last year, when Fasano was named principal, his previous position as assistant high school principal was eliminated, leaving only one assistant principal where in past years there had been two.

Shifting resources also enabled the high school to reduce average class size from about 24 students to 21, in large part by turning basic-skills teachers into classroom teachers.

"Our motto is, 'children come first,' and that translates into classrooms come first," says Kuchar, who is in his sixth year as superintendent and was previously the high school principal for four years. "We put all our time, money, and resources into where it hits most—the classroom."
| | |
| --- | --- |
| Town Name: | Bergenfield |
| City Hall: | Bergenfield Borough Hall |
| Address: | 198 North Washington Ave., Bergenfield NJ 07621 |
| Phone Number: | 201-387-4055 |
| Land Area: | |
| Distance to NYC: | 16.2 miles |
| Town Website: | http://www.bergenfieldboro.com |
| Library Website: | http://www.bccls.org |
| Water Service: | United Water Company |
| Gas & Electric: | P.S.E. & G. |
Demographics:
| | |
| --- | --- |
| Population: | 26,366 |
| Population Density / Mile: | 9,107 |
| Median Age: | 39.11 |
| Number of Households: | 8,778 |
| Average Household Size: | 3 |
| Households with Children: | 3,605 |
| Median Household Income: | $78,140 |
| Median Years in Residence: | 4 |
| Annual Residential Turnover: | 12 |
| Median Dwelling Age: | 49 |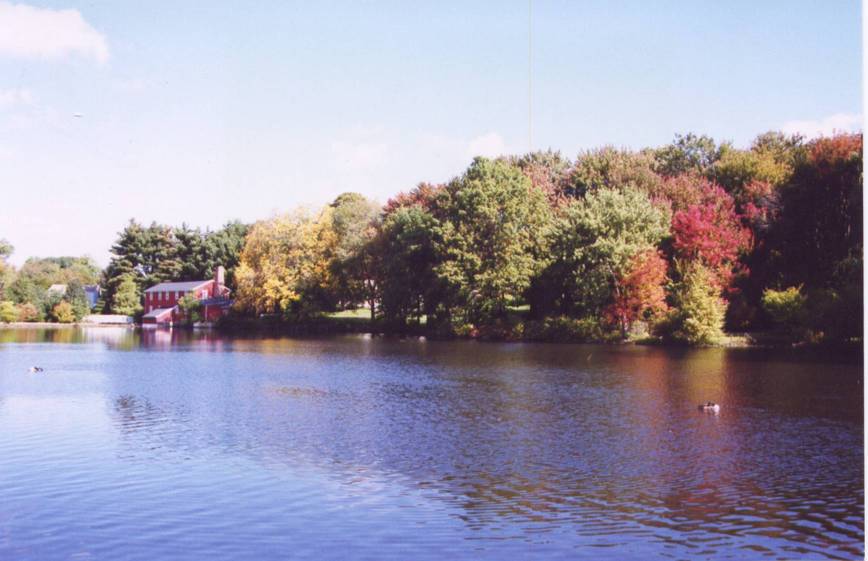 Cooper's Pond, Bergenfield